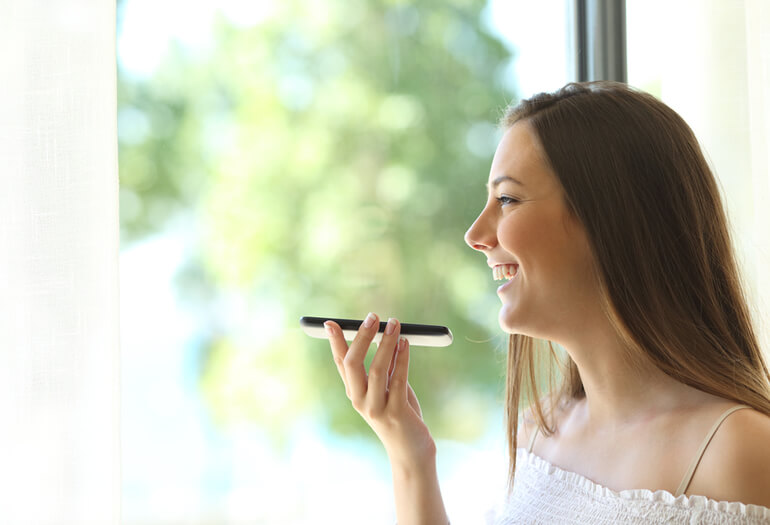 The arrival of Siri, the voice assistant of Apple, caused a big surprise as it usually happens with almost any innovation proposed by Apple. And it was also a reason for many jokes. We have seen humorous gags in which a person talks to Siri as if it were somebody real, situations in which a rebellious Siri refuses to talk to the owner of a smartphone, and even to Siri giving incorrect instructions just to annoy.
But voice assistants are already a serious thing, and voice is beginning to replace online writing as the 2017 Internet Trends Report by Kleiner Perkins Caufield & Byers reported.
In this scenario of writing less and talking more, voice shopping begins to be a phenomenon that can revolutionize online shopping.
Buy with a voice assistant
Voice shopping is the way to shop using a voice assistant, with programs designed to interact with digital devices that respond to voice commands and can execute tasks.
The idea is not new, but technology has come a long way and voice-activated devices are already present in markets such as the United States. Currently, there are 8.2 million American buyers who have voice-activated devices that they use for home automation, to search for information on the internet, and, of course, to buy.
Although Amazon can be considered as the leader of voice shopping, great digital players are being very active in this new way of buying.
Currently the Apple HomePod, managed with Siri, the Amazon Echo, powered by Alexa; Google Home and Ali Baba's Tmall Genie promise to spark disruptive change in e-commerce.
Talk, just by talking to a device you can receive the purchase the next day at home.
The challenges of voice ecommerce
The attendees based on artificial intelligence, chatbots and natural language recognition can create a totally new way of interacting in the coming years. And the idea of ​​voice ecommerce begins to take shape and pose new challenges for online marketers, who must offer a new experience to their buyers.
But the voice commerce that experts anticipate is not just a technology issue to streamline the transaction. To prepare for this scenario, where e-commerce giants take the lead, future ecommerce voice should not be just a way of doing dictated business. Three key aspects of the user experience should be considered: search, shopping, and customer service.
ComScore research indicates that by 2020,  50% of searches will be done by voice. Ecommerce should consider as soon as possible that users tend to be more expressive when doing voice searches, therefore, they will have to take advantage of NLP (Natural Language Processing) and include natural language in textual content. The content should also be voice friendly to fit the way you look, which will probably generate new longtail keywords, which will be the new voice-oriented keywords.
A very revealing report, Sales Force Connected Shoppers Report, this year indicates that 40% of US millennial have used voice assistants to make a purchase. Physical voice assistants are becoming popular in the US market and, as we know, will sooner or later become a global phenomenon.
One-to-one communication for customer service is another big challenge for ecommerce. More and more businesses are using WhatsApp or Facebook Messenger to send transactional information, personal offers or content. In this sense, the announcement of WhatsApp Business for companies have made many online marketers analyse how to take advantage and boost their customer service channels. Not just text, voice and one by one.
The challenges that the next-generation of ecommerce will face will require a lot of effort. But the data indicates that this effort will be worth it, at least It has been for Amazon. According to the RetailDive report, Amazon users who have the Echo device spend 10% more on purchases than those who do not.
Find out how Minderest can take your business to the next level.
Contact our pricing experts to see the platform in action.