The customers of online stores often compare the prices of different eCommerce stores to assess the quality of their offers. According to data that was recently published by Acierto, a Spanish insurance comparison tool, 93% of consumers compare prices online before purchasing a product or service to ensure that they're getting the best price on the market. Faced with this reality, eCommerce businesses need to know the channels and pricing tools that their potential clients can use to compare their prices with those of the competition, a factor that can influence the final purchase decision. At Minderest, we'll explain some of the main methods that consumers use to make price comparisons. 
Online price comparison
Online price comparison tools are the method used most often. These are websites that offer a comparison of the price for the same product in different stores or from different suppliers. Due to the noticeable increase in online offerings over the past decade, the number of price comparison websites is currently on the rise. So, we can find price comparison tools for products and services from any sector from the most classic comparison websites for car insurance or flight prices, like Skyscanner, to websites that analyse the price of essential goods, like food and personal care products, such as Radarprice. Despite this, technological products are the items that are compared online most often, partly due to their higher prices.
These price comparison websites offer a clear series of advantages to consumers since they: 
are very simple to operate.
give immediate results.
provide links to the stores that offer the given products.
save time by taking away the need to consult the multiple sales options one by one.
Because of this reality, eCommerce businesses should optimise their catalogue of products and services as much as possible to promote their appearance in the search results given by these comparison tools. For that, it's important to include a good number of keywords in the title, description, and characteristics used to advertise the different items and to optimise your landing pages by giving priority to the best offers.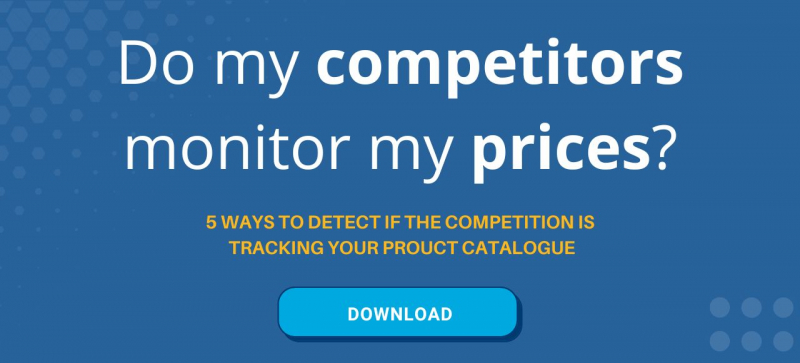 Google Shopping price comparison
Google itself has already implemented a price comparison system in Google Shopping. To use it, all you have to do is enter the name of the product in question in the search bar. The results will include information about stock availability and shipping costs to facilitate users' navigation and save time. This is why it's essential for brands to build the best possible advertisement in Google Shopping, with text and images that meet specific objectives and that are entered into the most appropriate category. 
In addition, for retailers, it's interesting to know that on Google, the first position as the most relevant ad will go to those items that are accompanied by an investment in Google Ads. This is why you must assess the suitability of investing in online campaigns as part of your positioning and lead capture strategy. 
Price evolution comparison
Another very common pricing tool used by consumers is the price evolution comparison tool. This type of software doesn't only compare the prices of products that interest you. It also includes data on any fluctuations in price over the last few months. This is particularly useful in the run-up to major events, like sale season or Black Friday, when companies tend to raise prices to later lower them. In general, these tools help potential customers anticipate possible discount campaigns from brands and assess how good an offer really is compared to previous ones. 
To serve as an example, there two extensions that are very useful when it comes to Amazon: CamelCamelCamel and Keepa. Both tools show users the price evolution history for selected Amazon products to facilitate decision making. They also allow users to set up alerts for when the price of an item drops to the price they're prepared to pay.
Given that, through these tools, clients can identify the campaigns that companies have launched, we recommend that eCommerce businesses opt for honesty and transparency. A pricing strategy that is too risky can generate a reputational crisis for the brand and a decrease in sales. 
On the other hand, if your customers know your competitors' prices, you should also know them to keep your company as competitive as possible and to adapt to any changes in supply and demand. For this, you can use the same price comparison tools that we shared above or implement automated competitor monitoring tools, like the ones developed by Minderest, to save time and define the most appropriate pricing strategy for your eCommerce business at all times. 
Request a demo
A leading Competitor Price Monitoring software for retailers and manufacturers