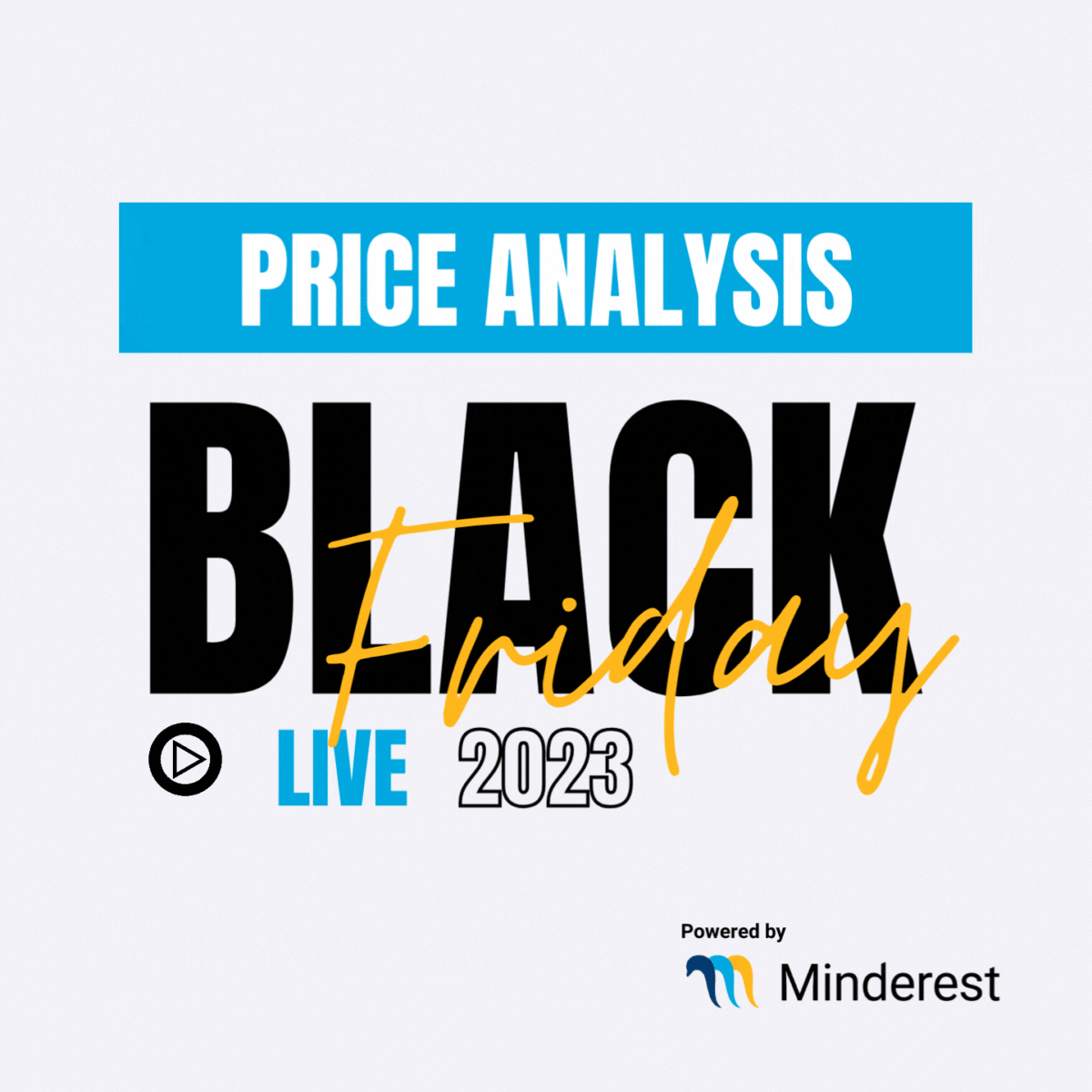 Track retail market leaders' Black Friday price changes.
November has become a major month in online and offline sales, driven by key events like Singles Day, Black Friday, and Cyber Monday. The timing also encourages consumers to get their Christmas shopping done early, helping to consolidate this time of year as the peak eCommerce season. 
Last year, Black Friday sales totalled $65,300 million worldwide. This has become one of the most significant events of the season for retailers and manufacturers, accounting for up to 20% of their turnover.
Most of these sales are driven by promotions, offers and discounts. But users also tend to be more price-sensitive and always search for the cheapest price at this time of year. They compare the prices on different websites before deciding where they will buy. eCommerce and marketplaces capitalise on this situation by closely monitoring their competitors and fine-tuning their pricing strategies. This results in a massive amount of price changes. 
This study analyzes price changes before and during the Cyber Week, from Thanksgiving day to Cyber Monday. We have selected products that stand out in the most successful category right now, consumer technology in leading retailers such as Walmart, Target, or Amazon. 
You can also access our studies of the German market, French market and Spanish market.
Browse the infographics below to find out the minimum prices recorded daily for each distributor and product.
Smartphones on Black Friday 2023
Find out the lowest prices for unlocked smartphones: iPhone, Samsung, and Xiaomi. Smartphones are traditionally one of the best-selling products in the last quarter of the year. Increased demand drives prices upwards. The price variation between our selected distributors is shown here.
Smartwatches on Black Friday 2023
The smartwatch is one of today's most in-demand wearables. Smartwatches are great for basic health monitoring thanks to their ability to monitor vital signs. They also synchronize with your smartphone to keep you up to date with incoming messages and calls. Find out the lowest prices recorded every day on smartwatches from Apple, Amazfit, Garmin, and Google Pixel.
Smart TVs on Black Friday 2023
Smart TVs have taken increasingly prominent positions in our living rooms over the years. Internet connectivity and applications make it easy to navigate between a wide variety of public content or streaming services such as Netflix, Amazon Prime, HBO, or Disney+. The user experience has also improved as the size and resolution of Smart TVs increase. Find out the prices of different models from the following brands here: Samsung, Sony, LG, or Hisense.
Wireless headphones on Black Friday 2023
Wireless headphones have given users greater freedom. They no longer need to be tied to a cable. Their Bluetooth connection, audio clarity, ambient noise reduction, and built-in microphone make wireless headphones the must-have PC and smartphone accessory. This headset is a great addition for music lovers and users who make numerous calls throughout the day. See price changes for top-selling models from Apple, Bose and Sony.
This analysis provides a sneak peek at the information offered by our Competitor Price Monitoring tool.
Our solution helps you monitor your competitors' prices agilely and constantly:
Monitor your competitors' prices constantly whilst investing less time.
Access daily price updates from any retailer so you don't miss any strategic moves.
Receive instant notifications when price changes occur for greater control and to save time.
Integrate all this data easily into your management tools to increase productivity and improve decision-making.
Would you like to find out what Minderest can do for your business? Try a demo now!
Find out how Minderest can take your business to the next level.
Contact our pricing experts to see the platform in action.