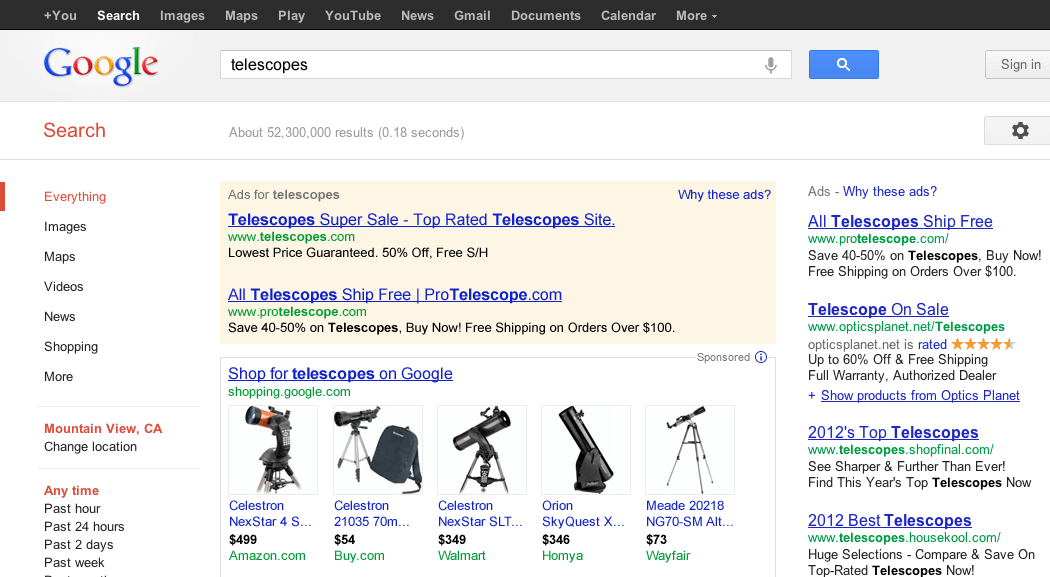 In the last few years we have witnessed the appearance of numerous price comparatives, such as Kelkoo, Shopmania, Idealo and many others. Slowly but surely Google Shopping has grown thanks to, in some extent, the integration of their organic search; when a user searches for a product using Google, the platform interprets that this user would like to buy the item and so it shows as the first results a comparative of prices of those sellers inscribed in their publicity monitor.
The large user traffic that Google Shopping receives has made it necessary for all ecommerce to know how their company and that of their competitors are positioned in the comparative. Having this information can be vital for an ecommerce that wants to stay competitive, as most of their potential clients compare prices before deciding between one company and another.
As a solution to this necessity, Minderest´s technology allows monitoring of Google Shopping prices, as well as the shipping prices and the stock amount, differentiating the minimum and maximum prices of each vendor.
An important point to consider is that not all ecommerce appear in Google Shopping, in fact, the most popular companies often do not appear, as they know that the user will access their ecommerce anyway to find out their prices. Therefore, if we confide our monitoring exclusively to these price comparatives, we would be leaving out the analysis of important competitors. On the other hand, the ecommerce with the cheapest prices on these portals are often the most unknown, and so it wouldn't be a good idea to base our prices online on other with a much lower profile.
The perfect solution would consist in monitoring directly top retailers' webs, as well as Google Shopping or another price comparative. With this strategy we would know the market price of the most popular companies as well as the minimum market price that is usually found in price comparatives.
If you would like to find out how Minderest could help you to improve the online pricing strategy for your ecommerce, you just need to request a demonstration.
Find out how Minderest can take your business to the next level.
Contact our pricing experts to see the platform in action.