The acronym BOPIS stands for "Buy Online, Pickup In-Store". It allows you to purchase online and then request collection from a physical store. As an online business model it is a great hit among users, which also benefits businesses by reducing delivery-related costs. Finding the right logistics solution can be difficult. Therefore, more and more e-commerce businesses with physical stores are using this model, also known as "Click and Collect". The reduction in delivery costs may even allow you to rethink your pricing strategy, enabling you to offer even more attractive prices. From Minderest, we explain the advantages of BOPIS, and how to launch it. 
According to data from Shopify, 59% of consumers are interested in being able to choose to "Buy Online Pickup In-Store". Ultimately, it aims to enable the customer to collect an order faster and more efficiently than is possible with other delivery methods. To achieve this successfully, you need to have enough stock available in store. Employees will need to be responsible for locating the item, packing it, and leaving it ready for collection. Otherwise, you will need to request stock from another shop or warehouse, which increases waiting times, but usually not as much as an e-commerce business without a brick-and-mortar retail outlet. Either way, the order needs to be ready before the customer receives a notification to go and collect it.
Advantages of the BOPIS model
In addition to eliminating delivery costs, which today are generally taken on by most online stores, "Buy Online, Pickup In-Store" also has the following advantages for companies:
It helps improve customer relations, especially with those who value human contact more than the computer.
Customers' visiting the store makes cross-selling easier.
It brings added value which helps to differentiate you from your competitors.
It can encourage increased profits due to reduced costs and may increase sales to customers most drawn to "Click and Collect."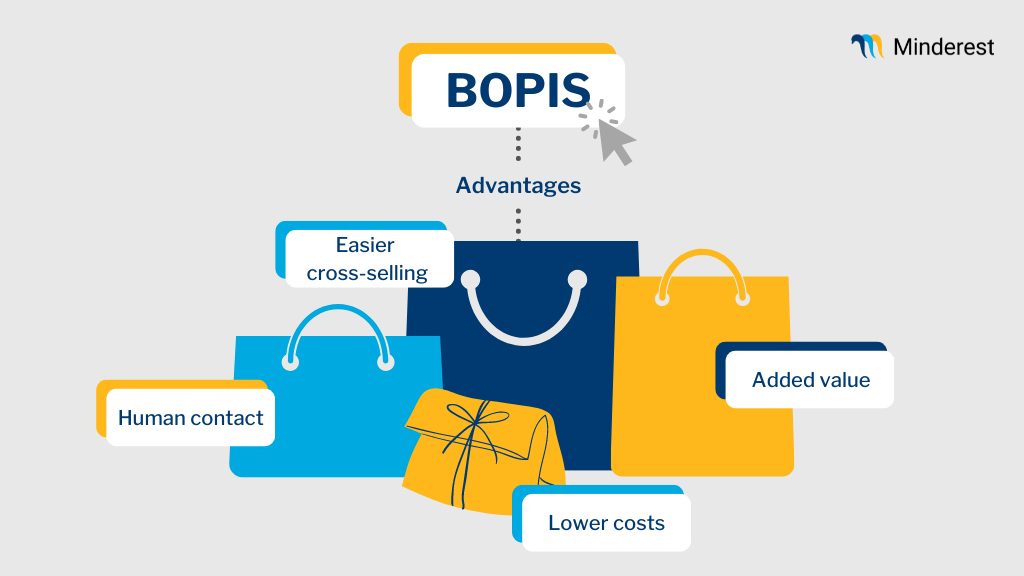 One disadvantage is that a business needs a precise stock control system before it can implement BOPIS. It needs to be able to track stock and have the facilities necessary to cope with expected demand levels. It is already quite common to find shops with a designated online order collection desk. Having a physical store also involves responding to customers' needs on various channels and makes well-trained employees essential.
Finally, the BOPIS model can greatly improve the buying experience for the most demanding users regarding delivery time scales, who still value human contact in local businesses. Do you think introducing BOPIS might be a good idea for your business? You should start by analysing the costs which derive from your current delivery chain. Then you should research the strategies adopted by your competitors. From their delivery costs and prices, you can design a strategy that will be more attractive to users and thereby improve your competitive market positioning. Automated monitoring tools will allow you to find out their prices, stock, offers, and delivery costs.
Request a demo
A leading Competitor Price Monitoring software for retailers and manufacturers